Cape Sable Exotics Project
1995: We were poking around Flamingo on Thanksgiving Day, when Anthony (Tony) Terry, Assistant Director (currently Director), Flamingo Ranger District, Everglades National Park walked over to us and asked if we would like to take a boat ride to Cape Sable. Off we went, just like that! Usually it's a somewhat lengthy process getting to the Capes, even when the seas are calm, but we must have made it in 30-40 minutes. We parked the boat and walked from East to Middle Cape. It is a peaceful, beautiful place but we noted extensive areas dominated by four exotic invasive plants, Brazilian Pepper, Schinus terebinthifolius, Australian pine (Casuarina glauca), lead tree (Leucaena leucocephala) and beach napaka (Scaevola taccada) along the berm and prairies to the exclusion of native species. We detemined to devise a plan to correct this unhealthy situation.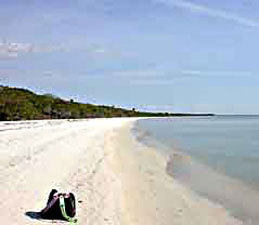 Middle Cape looking east.
This section of Cape Sable is a 19 km (11.80 mi) thin sliver of land at the extreme southwestern edge of Florida Bay in Everglades National Park. It includes a 19 kilometer storm constructed berm reaching from East Cape to Northwest Cape and the extensive prairies and hardwood forests associated with it. Along this berm are three large triangular shaped, tree studded prairies called East Cape, Middle Cape and Northwest Cape which transitions to a "back wall" of nonmangrove hardwoods that sometimes extend considerable distances inland. The berm connecting the capes varies 10 to 200 meters in width.
Brazilian Pepper was by far the most problematic exotic that needed attention and was found in the berm, prairies and back walls. We started with the berm to test procedures and then write a proposal for funding for additional seasonal help.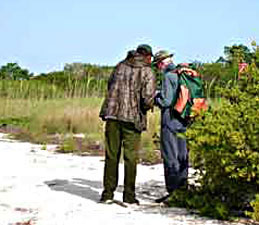 Rick and Tony conferring on Middle Cape.
Note prairie and treed berm in background.
1996: Wrote a 9 year proposal in collaboration with Tony Terry, Assistant Director (currently Director), Flamingo Ranger District, Everglades National Park to eradicate 4 non-native plants from the 19 km stretch of land at the extreme southwestern edge of Cape Sable in Everglades National Park. Additional species scheduled for removal were Australian Pine, Casuarina equisetifolia, Lead Tree, Leucaena leucocephala, and Beach Naupaka, Scaevola taccada. A to scale map was created of East Cape to Northwest Cape indicating the position and treatment status of the species found in that section. A similar map was created for Northwest Cape containing the same information. The maps will allow relocation of eradication efforts to allow for evaluation and follow-up in years to come if necessary. Eradication was started to test procedures as well as the most effective herbicide. Garlon 4 mixed with JLB oil was the herbicide of choice for Brazilian Pepper with a strength of 10 to 20% depending on tree/trunk size.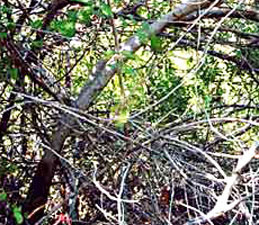 Tangled trunk and branches of Brazilian Pepper.
Branch tangle of Brazilian pepper was a major treatment problem. One must penetrate the tangle to reach the main trunk (darkened trunk lower left in photo). A basal bark method of application was employed. 2 1/2 gallon sprayers were preferred as they were easier to navigate under and through the branch tangles. Spraying the trunk properly was the key to success. Spray must completely encircle the trunk from at least 1 foot above each fork to the ground. Unlike the trunk shown, it is common for trees to have forked trunks at ground level. If areas are missed the tree will resprout and become even more difficult to kill. We initiated a practice of working with individual volunteers instead of groups because the logistics of getting to Flamingo, a 38 mile trip from the park entrance, climbing onto a boat, belng bounced around for 30 to 40 minutes, getting off the boat at ones destination without a ladder often in rough seas, unloading sprayers, herbicide, backpacks with lunch and water, etc. was too much after driving miles in the early morning just to get to the park. As we became experienced many volunteers were from Flamingo, usually employees of the park concessionaire. Our friend Leon Howell came every week as he had with the Shoebutton Ardesia project.
The proposal was 24 pages long. Anthony Terry, the third author and facilitator of the project, received it in early summer with the suggestion that he take it to the people whose input was needed to present it to a funding source. Then we left Florida for a summer trip. When we returned later that summer the proposal had been funded in the amount of $210.000 we were told, to cover paid seasonal help for the 9 years requested to complete the project. Nine seasonal employees were hired for the winter of 1997 and 5 the next year. The volunteer program continued with coordination with the paid employee program. The project was finished in 7 years (2001).
Four years after project completion we received additional help when Hurricane Wilma (2005) and its 6-8 foot storm surge swept over the cape prairies eliminating what little reinfestation might have occurred via seed rain from frugivorous birds, the primary disperser (pers. obs.). When we inspected the Capes after the storm it was clear that what few exotic seedlings had reestablished themselves in the four intervening years had been drowned and killed by the salty storm surge. In addition, more than three feet of sand was pushed onto the beach and berm further assisting us, as native plants quickly reestablished themselves while the exotic species did not.