Shoebutton Ardisia (Ardisia elliptica) Removal Project
We had vacationed in Everglades National Park periodically since February, 1967. The park and community were much changed from that first visit when we moved here. The most obvious change was in the understory of Royal Palm Hammock and another broad-leaf treed area nearby where we enjoyed observing bobcat in past visits. We had walked on paths through Royal Palm to view artifacts from when it was Royal Palm State Park before the park was created in 1947. (The Florida Federation of Women's Clubs gained land title in 1915. Royal Palm Lodge was built in Royal Palm Hammock 1916-1918.) In 1984 the understory of Royal Palm could not be penetrated unless one pushed the thin-trunked trees aside like doing the breast stroke. We were horrified and wanted to do something about it! Being pretty obvious as we poked around, it wasn't long before someone from research stopped to talk with us and see what we were up to. They (particularly Sue Husari, fire effects officer with the fire program) were supportive, introduced us to the right people and we were on the way.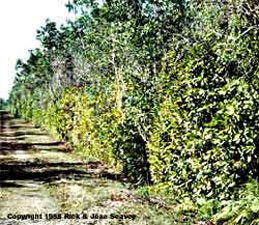 Yellow-green Shoebutton Ardisia understory.
Timeline:
1987: First we were asked to map the north side of Royal Palm Hammock, aka Paradise Key, for exotics. This was done by running a hip chain through the hammock while recording all non-native species (also referred to as "exotics"). A map was made showing the position and prevalence of Shoebutton Ardisia, Ardisia elliptica, (known erroneously as Ardisia solanaceae early in study).
1988-1989: Removal of Shoebutton Ardisia, Ardisia elliptica, from Royal Palm Hammock. This was one big production. Mike Brennen, assistant botanist, coordinated community volunteers. The Seaveys laid out 2 m transects in the thickest plant concentrations where volunteers would be assigned to pull seedlings carpeting the hammock floor. The narrow transects not only gave pullers an achievable goal but also provided visible results which helped morale and productivity. Luckily, Royal Palm is the largest hammock in the park and probably the coolest making the job most pleasant during our workdays. Workdays were scheduled every Saturday for two winter months. Staff of the research center volunteered their weekend time to apply Garlon 3A herbicide on Shoebutton Ardisia stumps. Trees were cut horizontal to, and as close to, the ground as possible making a level trunk surface. The herbicide was applied with an ordinary primed squirt bottle dabbed to the freshly cut stumps. Surface tension held the herbicide in place until it was absorbed into the tree's phloem. This provided a 97% kill rate and there was absolutely no damage to other vegetation. Community volunteers came in large numbers. Up to 40 members of the Sierra Club were one of the first to arrive bringing lunch for everyone! Dade Chapter Florida Native Plant Society and DERM, Department of Environmental Resource Management, were also regular volunteers. Many local individuals also volunteered regularly. During the week we checked the transects to verify all seedlings had been removed. Stumps were checked to make sure herbicide had been applied and all trees treated; then next week's transects were laid.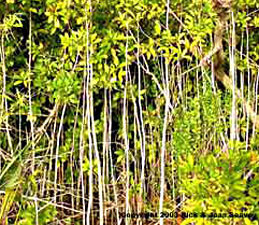 Thin stemmed Shoebutton Ardisia understory.
Results:
Royal Palm became basically free of Ardisia elliptica, native plants returned and Interpretation resumed giving tours of the former site of the Royal Palm Lodge, the birthplace of Everglades National Park. The hammock has enjoyed 25 or more years free of this exotic invader but recently there is some evidence of reinfestation which will need to be addressed in the near future.
Although we discovered and eradicated this plant in 9 other hammocks in the park, Royal Palm had been most impacted. Stem counts of eradicated plants at this location over the two year period exceeded 500,000. In some of the more heavily impacted parts of the hammock, counts of 2,000 plants per square meter (including seedlings) were recorded.
Frederick (Rick) and Jean Seavey received the 1989 Marjorie Stoneman Douglas Award in recognition of this work from the Dade Chapter Florida Native Plant Society.
Rick and Jean continued to survey and treat (with the help of community and park volunteers) 8 other invaded hammocks and 2 invaded roadbeds. It was found in the Flamingo area in 1995 and easily controlled. With the incidental help of the Hole-In-The-Donut mitigation project, this plant is still largely controlled in Everglades National Park 28 years after the project. But there are spots that are concerning.
1989-1992: Various research projects were initiated by us and/or the University of Miami and performed in collaboration with the University of Miami, Department of Biology (through Dr. Carol Horvitz), to improve our understanding of this plant. These involved studies of seed viability in the soil (1 year), growth dynamics as related to varying conditions such as light and shade, means of seed arrival, hammock disturbance, etc. Mist netting trials were conducted in various habitats along anticipated flyways to the hammock in which captured birds were placed in a paper bag for a short time and then released. The contents of the bag were then compared with sample seeds collected by Jean from the mist netted areas. Seed trap transects were also maintained.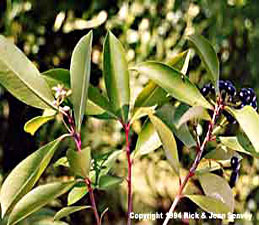 Ardisia elliptica fruit and flowers.
Reports submitted to Everglades National Park concerning this work include:
Ardisia Elliptica in Everglades National Park: An Overview through 1992. (This 1994 report describes all our work from l987 - 1992 with discussion of additional problem areas and possible control options. 15 pgs., 10 photos and 3 maps.) Maps: (1) Current Status of Ardisia Elliptica in ENP 1994, (2) Paradise Key-Royal Palm Hammock Showing Ardisia Elliptica Populations (Pre-1987), (3) General/Major Landtype Divisions for South Florida.
Searching The True Identity of an Exotic Ardisia in Everglades National Park. (A thorough review of the naming of our exotic Ardisia. 20 pgs.)
Control of Ardisia Solanacea in Paradise Key, Everglades National Park 1987-1988. (First paper describing this project-concentrates on methods.)
Comments: We are particularly proud of this work that represents the first use of community volunteers (now commonplace) for non-native plant removal in this area. The understory of Royal Palm Hammock was completely replaced in many areas by this exotic invader and the park was not addressing the problem due to lack of personel and money. Treatment and study were begun early enough to keep Shoebutton Ardisia from getting a foothold in other park areas. Probably the most important thing that happened was that the project led to people interested in preserving native plants meeting each other and forming a loose cooperation around the preservation of native plants. The Dade Chapter of the Florida Native Plant Society (DCFNPS) now even maintains the native plant landscaping in front of the park visitors center. We met Dr. Carol Horvitz at our Marjory Stoneman Douglas award ceremony and thus began our joint research into the plant.
Where Ardisia elliptica is found: Hammocks (islands of hardwood trees, with shade, disturbed soil and humidity due to a closed canopy) provide optimal conditions for Ardisia elliptica. It was found in 9 ENP hammocks in both disturbed and undisturbed soil conditions. Due to disturbance history and proximity to a seed source Royal Palm was the most heavily impacted. 28 years later, it is still reasonably free of this exotic but Ardisia is beginning to reappear here and in other former haunts. We hope the Park Service will remember our work and not let Shoebutton Ardisia ever regain a foothold in its precious hammocks. Please click the link "Photo Gallery" above for examples of varying hammocks.
Publication of project: Gwen Burzcycki, Miami-Dade Dept. of Environmental Resources Management, some time after the project told me that the state exotic plant removal contractor was unaware of our successful method of Ardisia treatment. She was in the process of creating controlled experiments to narrow down optimal treatment procedure for him. Another time she was planning to post some of our papers for others. We presented the work to the Technical Advisory Group on Biological Control of Weeds on 7-20-95 and later to the Florida Exotic Pest Plant Council at their annual meeting. We have never published the work but it is certainly not a secret and the word is out where it matters most. (The Cape Sable project was also presented in a field trip at this FLEPPC conference.)