Vegetation Mapping with CRMS, University of Georgia
1999-2003: Began working with the Center for Remote Sensing and Mapping Science (CRMS) at The University of Georgia. First assignment was to assist in the creation of vegetation maps for Great Smoky Mountain National Park. This ended up including both overstory and understory maps which became the first fire effects maps based on eastern species. Our part in the process was to walk the park retaining vegetation types (with GPS position) in a notebook and position in the GPS. After returning home we would transfer the information to mylar overlays covering infrared aerial photos of the park. Fall photos were taken hoping to record leaf change colors to assist with interpretation. Unfortunately not all photos were infrared making the job more difficult. Once plant community boundaries were drawn, a community type code was written inside the polygon. Nature Serve community types were used when they fit but often they didn't. Creating a new community was not easy for Nature Serve. The Smokes had rich plant diversity leading to numerous non-conforming communities. Nature Serve accompanied us sometime during each of our sessions "in the field".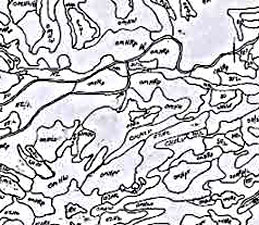 Attributed overlay used in mapping process.
Once completed, the polygons were sent to CRMS for actual creation of the maps which were made to the scale of U.S. Geological Survey topographical maps. Each year before and after our field work we spent some time in the CRMS lab. Plant community difficulties were resolved by creating cross walks to Nature Serve communities so that extra information could be recorded on the maps that was not available in the Nature Serve description. It was a huge job but a wonderful park to explore and exceptional people to work with. Below Rick is on the lawn of Purchase Knob, a park education center were we often stayed.
2003-2009: Chickamauga Battlefield and Lookout Mountain Battlefield were our next assignment followed by the Blue Ridge Parkway. We were the only interpreters for these two parks.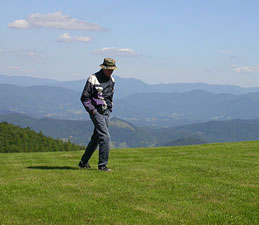 Rick on lawn of Purchase Knob in GMMNP.
Actually both parks were worked together much of the time. Extending 469 miles along the south & central Appalachians, the Blue Ridge Parkway connects Shenandoah & Great Smoky Mountains National Parks. It was even more challenging than the Smokies in many ways; not only does the parkway have vast ranges in elevation, from 649 to 6,047 feet, but it extends north/south through two states, VA and NC. Seasons and plant blooms vary depending upon one's elevation and north/south position. Fall in VA is weeks earlier than in NC. Consequently infrared photos only recorded fall colors on a few photos depending on which areas had them at the time the photos were taken. Geology is often part of a plant communities' description. Maps (of park boundary, where numbered photos fell on maps and where GPS points were taken, geology etc.) assisted us in the field. A digital map allowed dropping GPS points on the map.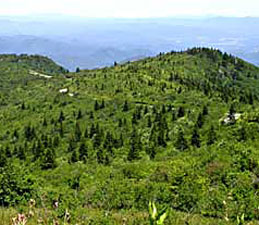 Section of Blue Ridge Parkway.
As in the Smokies, the diversity of plant communities was a nightmare. In fact, Nature Serve contracted with the Virginia Heritage Foundation for plant community descriptions of the park's Virginia portion. In the North Carolina half alone, we dealt with 39 topographic and geologic maps and an estimated 455 infrared photos, not to mention all those plant community descriptions (145 for both states at last count).With over 145 different community types, a database was designed to assist. We select canopy & understory species; the computer gives community possibilities. A beautiful, diverse, uncrowded park.
Chickamauga and Lookout Mountain Battlefields are shown as part of Chickamauga and Chattanooga National Military Park in the park brochure which includes many disjunct spots of military significance.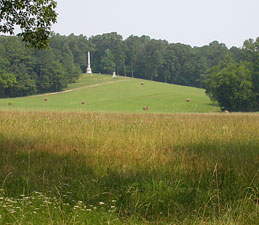 South Carolina Monument in Dyer Field, Chickamauga Battlefield.
The mapping of Chickamauga National Military Park also included Lookout Mountain to the north and a Cherokee reservation called Moccasin Bend. The Chickamauga site is very beautiful and serene but the vegetation mapping was challenging as it varied greatly from one part to the other. One of the most important ecosystems within the park and also of the greatest interest to park managers was the limestone cedar glades. However, these had been overgrown to a great degree by red cedar (Juniperus virginiana) and were difficult to detect from aerial photos. This involved essentially wandering through the park and documenting their historic and present boundaries by GPS methods. Several examples previously unknown were discovered by this method. In addition, along the southern border of the park a number of puzzling plant communities were discovered near Chickamauga Creek.
As you see from the photo bottom-left, Chickamauga preserves fields that existed during the Civil War but probably at a reduced size allowing for regrowth of trees and shrubs. It was the opinion of the park historian that many forests in the park should be removed to better replicate how it was during the battle. Today the park does an admirable job of balancing a park-like atmosphere while preserving its historical reverence. The park was established to commerate and allow public use for respectful exercise and relaxation; and also preserving nature that compliments it all.